Pinterest is a visual and creative platform. Pinterest is an image and video sharing platform. These visually focused platforms help users and businesses to showcase their products, services, and much more. Pinterest has been there for a decade but no one actually benefited from it.
Pinterest really helps you get organic traffic. People often use this site for information, inspiration, or motivation. You might have heard the phrase "Pinterest Quotes". I have been using Pinterest for almost a year for my clothing business and the platform is getting better and better day by day.
You have all the features that you get on Facebook business manager. They really push their platform as a platform where you get ideas to inspire from. it's is not only about ideas.
If you are a small business or you already have your presence on social media platforms like Facebook, Instagram, Twitter, e.t.c. But if you want to increase your audience and expand your social media content efforts, you should consider Pinterest and give this platform a try.
Demographics & Insights
Almost 444 million people use Pinterest globally. 80% of users discover new brands or products. 60% of Female users and 40% of Male users are using the platform. Statistics are not bad! Right?
People often stick to Facebook and Instagram for selling their products online but a little effort on your Pinterest profile can make a huge difference.
Always try to learn from others. Check out the content of popular brands and see what they are doing on Pinterest. Here are some of the brands you might want to look into.
Benefit Cosmetics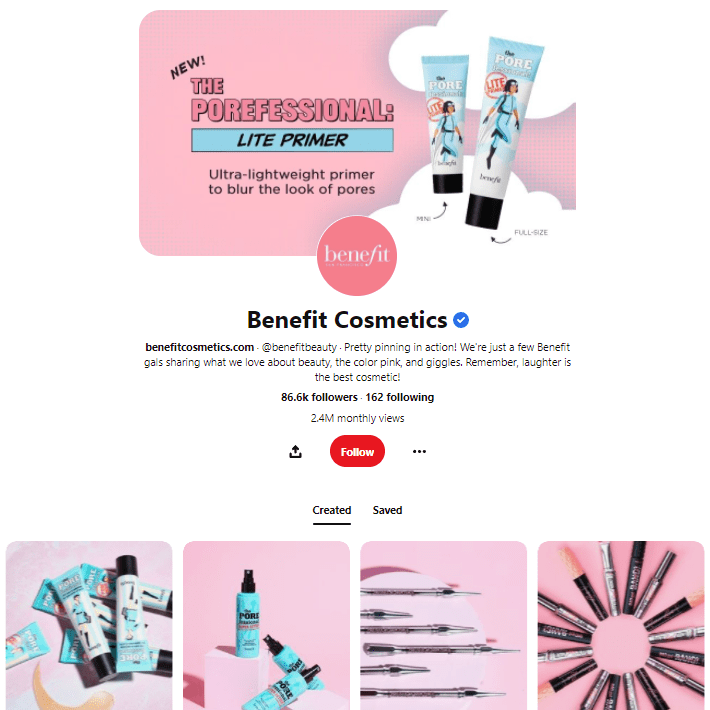 WINCI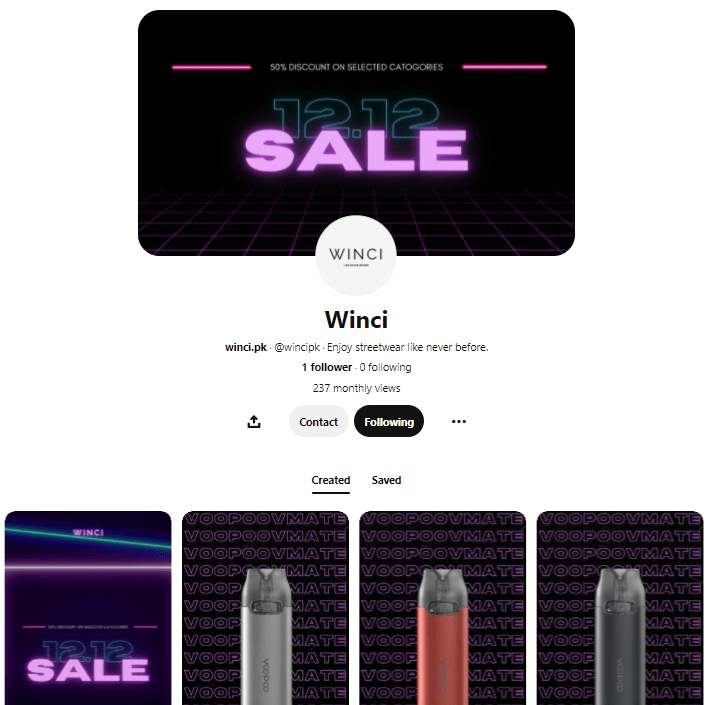 ETSY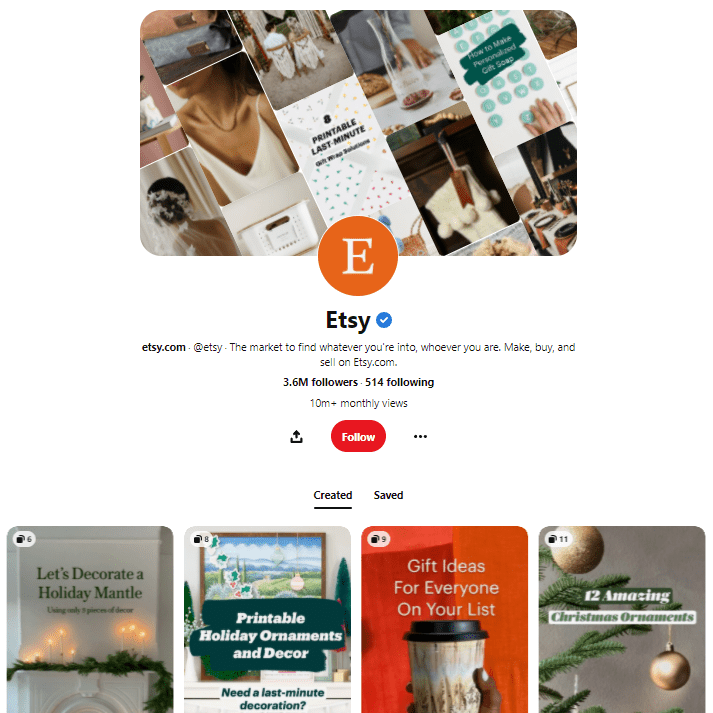 Business profile on Pinterest
There are two types of accounts:
The business account is a go for you if you are looking for potential customers or you just want to increase your brand awareness.
Features of Business Account
You might not get many organic views on Instagram or Facebook if you are a small business but on Pinterest, it's quite the opposite. It really works for organic growth. If you post regular content on Pinterest the algorithm really pushes your content to your audience.
Pinterest also offers advertising on its platform. If you are expanding your marketing budget and you are looking for potential customers you might consider advertising on the platform.
This is one of the most crucial parts of your business account. Your Company Name in the header, your website link. These features are only available on business accounts. You can make your profile awesome so people follow you and save your products or services for future considerations.
Content Ideas
Content is going to push your profile to the next level. You have to make content that works on Pinterest. It is a very sophisticated platform people are constantly looking for content that is informational. Here are some of the best pins content ideas you can start with:
Most marketers ask themselves this question "What's the next step to get viral on the internet?".
Brands, marketers, and businesses are constantly looking for ways to get viral on the internet. This strategy works because it produces hype that can have effects on your efforts for years. Pinterest can help you get viral because good marketing and content are all you need to get viral.
Posting & Scheduling
Being active daily on the platform constantly posting content on a daily basis and saving pins on routine is a better strategy than just checking in after a week. The best strategy to post your content is to see when people are online and then use those statistics to schedule your post at that time. So, people see your content when most of the users are online.
The best time for posting on Pinterest is in the late hours between 8 p.m. and 11 p.m. (with a peak at 9 p.m.) and then in the middle of the night from 2 a.m. to 4 a.m.
You can check your analytics to see when your pins are performing best and schedule your pins for that time.
The Pinterest SEO?
Pinterest has its own kind of SEO. It not only helps to rank your pins in google search but if you optimize your pins for the algorithm by using these SEO techniques such as using ALT Text, using relevant keywords in your title and description these optimizations help you rank higher in the algorithm, and you are rewarded with more page views.
Planning
If you are serious about expanding your marketing efforts. You need to stay ahead of your competitors. Plan and make your content in advance for at least 10 days. You might have heard a famous quote from Warren Buffet.
"An idiot with a plan can beat a genius without a plan."

Warren Buffet
This is the real power of planning!
Conclusion
In my opinion, Pinterest is one of the most creative and visual-focused platforms than any other social media site. Pinterest is the next big thing. It's still underrated but it has some very awesome features and has the fastest-growing audience of GenZ users with 40% growth yearly. I think every brand or small business should include Pinterest in their Marketing Strategy. Like you say "something is better than nothing".
Subscribe for my premium content!
Sign up to receive the latest marketing, investing, and technology articles in your inbox.